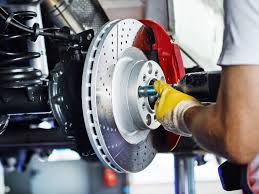 Technicians at Bowman's Auto Service are trained to service today's complex brake systems. They can inspect your vehicle's braking system to ensure that it is functioning properly or diagnose a problem and offer suggestions and an estimate for repair.
From brake pad replacement, maintaining rotors, replacing wheel cylinders, to addressing Anti-Lock Brake System issues, Bowman's Auto Service provides full repair service for all your vehicle's brake components.
Additionally, we can perform routine maintenance as suggested by your vehicle's manufacturer. Most often this is a brake system flush, which involves the removal of air and moisture from brake lines and the replacement of brake fluid. Whatever your vehicle's brake system needs, Bowman's Auto Service can perform the service to help ensure its proper working condition. Trust Bowman's Auto Service for your vehicle's brake service maintenance and repairs.
Phillips Body Shop recommends a brake service any time the symptoms described above occur and a brake flush every 24 months.
Proudly Serving Flatwoods, Russell, KY and surrounding areas.